Functional Products Inc. provides biobased and ecofriendly additives for Environmentally Acceptable Lubricants (EAL) via the European Ecolabel's Lubricant Substance Classification (LuSC) list. European Ecolabel is one Environmentally Acceptable Lubricant (EAL) program that may be used to streamline registration for Vessel General Permit (VGP) for lubricants and greases on ships and waterways.
The LuSC list as of June 2023 is available here and contains all white-listed components and packages. Newly registered products may take some time to appear on the list but are valid – contact us for the most recent LuSC status.
For more information on exact formulation and performance requirements, consult the User Manual for EU Ecolabel Lubricants. Treat levels are dependent on the properties of the additive, application, and likelihood of loss to the environment.
Active FUNCTIONAL additives on the LuSC list as of July 18th 2023 (click to download cheat sheet):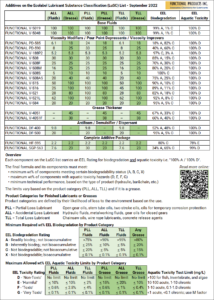 See the most up-to-date Technical Datasheets and Safety Datasheets in the TDS and SDS sections.
We are currently promoting these Ecolabel LuSC-listed products:
Base Stocks:
FUNCTIONAL V-5019 – ISO 1900 synthetic ester with excellent biodegradability and low temperature fluidity
FUNCTIONAL V-5048 – ISO 4800 synthetic ester with excellent biodegradability and low temperature fluidity
Tackifiers:
FUNCTIONAL V-188P2 – Shear stable biodegradable OCP tackifier for biodegradable PAO / HEPR, oil-soluble PAG, and non-ester formulations
FUNCTIONAL V-584 – Tackifier for vegetable oils and some synthetic esters
Viscosity Modifier / Viscosity Improvers:
FUNCTIONAL V-508 – 29 SSI viscosity modifier in vegetable oil for biobased; versatile in many vegetable oils and synthetic esters
FUNCTIONAL V-508A5 – V-508 variant, based in a synthetic diester
FUNCTIONAL V-508M – V-508 variant, more concentrated
FUNCTIONAL V-508F – V-508 variant, more concentrated in biobased ester
FUNCTIONAL V-515 – 50 SSI viscosity modifier and shear stable tackifier in vegetable oil for biobased
FUNCTIONAL V-521 – 30 SSI viscosity modifier in vegetable oil for biobased; exceptional low temperature fluidity
FUNCTIONAL V-521L – V-521 variant, lower viscosity for better handling
FUNCTIONAL V-731 – 1100 cSt EPO viscosity modifier
FUNCTIONAL V-732 – 2000 cSt EPO viscosity modifier
FUNCTIONAL V-830 – Water and glycol soluble powder-form viscosity modifier
Pour Point Depressants:
FUNCTIONAL PD-585 – Concentrated pour point depressant for vegetable oils / triglycerides
Complete Additive Package:
FUNCTIONAL HF-595 – hydraulic fluid additive package
FUNCTIONAL SGP-563 – saw guide oil package for high speed saw and chain lubricants
Defoamers/Demulsifiers:
FUNCTIONAL DF-400 – versatile defoamer for biodegradable PAOs and low polarity esters
FUNCTIONAL DF-500 – silicone-free defoamer for vegetable oils and fatty synthetic esters (medium polarity)
FUNCTIONAL DM-400 – highly effective demulsifier for a wide range of EAL base fluids
Grease Additives and Thickeners:
FUNCTIONAL V-4051 – liquid grease polymer for improved water resistance
FUNCTIONAL V-4051F – V-4051 variant, more concentrated